Acting as trusted advisors for families, business owners, and professionals.
Our strength is to listen well to clients and to work collaboratively with clients professional advisors. Our unique ability is to facilitate open communication between families members and business partners. Our passion is to help clients understand the importance of proactive planning in estate and retirement management. We are committed to providing objective, dependable, and comprehensive financial planning services in English, Cantonese and Mandarin.
Providing Clarity and Confidence in family and business wealth management.
Integrity is to face reality and to tell the truth even when it is hard. To achieve integrity, one needs courage to do what is right.
Anything that is worth doing, is worth doing well. To achieve excellence, attention to details and walking an extra mile are essential.
Clarity empowers one to make the most suitable decision at the time. To achieve clarity, one has to know and communicate what outcomes are desired.
Collaborative teamwork is how we achieve great work. Great teamwork starts with effective leadership and a committed vision.
Progress is necessary in every stage of life. To achieve progress one needs life long learning to keep moving forward.
Stewardship is the careful and responsible management of one's resources and talents. To achieve good stewardship, once needs the attitude of looking beyond one's self and beyond today.
Meet Your Advisor
In this strategic discovery session we understand your values, concerns and priorities so that your financial goals are kept at the forefront of all conversations moving forward.
Formulate Your Strategy
A comprehensive analysis will provide you the financial improvements and opportunities to take advantage of plus the financial gaps to consider along with the solutions to address these gaps.
Consider Your Options
Now that you have a clear picture of your financial landscape, we come alongside you to put the solutions in action.
Gain An Ongoing Guide
To ensure that you're on track to meet your goals at different seasons in your life we proactively connect to review, strategize and adjust so that you have peace-of-mind about your financial journey now and into the future.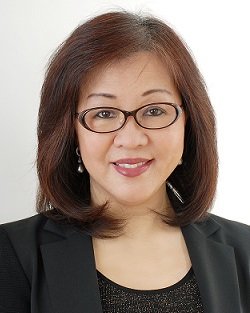 Founder & President, CFP®
Estate Planning, Retirement & Insurance Advisor
Kari Leoganda is the founder and president of Leoganda Financial & Insurance Services Inc., a full-service financial planning company, established for over 30 years, that specializes in Estate and Retirement Planning.
Kari practices value-based financial planning, where she begins by taking the time to listen well and understand her clients and their family's unique situation. By helping clients to discover their family and business wealth management goals, Kari is able to provide realistic financial strategies so that families can proactively manage their financial resources to meet their goals. Her greatest strength is to foster open communication with her clients, their families and their business partners. Kari's unique communication and language skills enable her to facilitate open dialogue among parties that might not otherwise share openly with one another. She speaks English, Cantonese and Mandarin.
She is a life member of Million Dollar Round Table and Top of the Table member numerous times.
Prior to starting her financial planning career in BC in 1990, Kari was a group buyer for a renowned department store in Hong Kong – Lane Crawford. Kari frequently accepts invitations by the IFPC (International Financial Planner Council) to deliver training seminars to financial and insurance advisors in Hong Kong. Kari's active community leadership service includes:
Twice acting as Chair Person of Canadian Chinese Telethon for BC Children's Hospital Foundation
Founding Chair of Chinese-Canadian Planned Gift Committee for BC Children's Hospital Foundation
Past Board Member of Richmond Christian School
Corporate supporter of ICC (International China Concern), an organization helping handicapped and abandoned children in China
Founding Committee Member of WHEN (Women's Heart Engaging Network), a women's Christian ministry in partnership with Power to Change
Kari lives out a meaningful and purposeful balance between family, ministry, charity and professional life.
Kari is married to Gideon and they have two lovely adult children.
Are innovators in the advanced use of insurance products in estate tax planning for their clients…
I am the partner of one of the top 21 accounting firms in British Columbia and we have been in business since 1991. I have known Kari for almost 2 decades and seen how she and her operations have evolved and grown both professionally and personally. It is my privilege to be associated with Kari and her team for all these years and my firm is indeed very proud to have her as one of our most valued clients.
Partner, Lam Lo Nishio Chartered Accountants